Valley Falls Auto Repair
Top Quality, Affordable Auto Repair Services Near Valley Falls - Call Today 401-725-1313
When drivers in Valley Falls need cost conscious auto repairs they call Division Brakes Inc. Since 1984, Division Brakes Inc has been delivering professional and competitively priced auto repairs to the Valley Falls area.
Division Brakes Inc provides top-quality auto repairs to keep foreign or domestic cars and trucks running at peak performance. Call Division Brakes Inc near Valley Falls at 401-725-1313 for fast, affordable auto repairs. Customer satisfaction is our goal!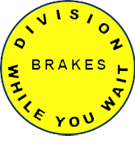 Informative. Will call when issues become apparent, allowing you, the customer, to choose between spending the $$ to fix it, or holding off until another time.
Eric T.